The Doctors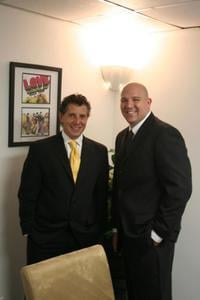 Dr. Glenn Berger, D.C.
Dr. Berger attended the University of Miami and received his Doctor of Chiropractic Degree from Logan College of Chiropractic in 1988. Dr. Berger has served as a professional consultant in the area of prevention of back injuries to many South Florida corporations. A Board-Certified Chiropractic Physician and Acupuncturist, Dr. Berger is licensed in Florida, Missouri, and New Jersey and is a member of the Florida Chiropractic Society.
---
Dr. Craig Novia, D.C.
Dr. Novia's major at Florida State University was Psychology with emphasis on Neurobiological systems and Neuronal Apoptosis. Dr. Novia did a directed study with neuronal plasticity and Alzheimers Disease. After learning many different Chiropractic techniques such as Full-Spine Diversified, Toggle Recoil, Basic Activator, Extremity Adjusting, Grostic Upper Cervical, and Thompson Drop, he graduated Cum Laude in 2003 from Texas Chiropractic College. Dr. Novia advocates the necessity of proper hydration, exercise, stretching, and nutrition. He strives to implement these necessities in the treatment of his patients as they are essential for healthy living and proper spinal maintenance.
---
Dr. Denise Gimbel, D.C.
Dr. Gimbel received her Associate Degree in Arts and Science in 1993 on a full scholarship at Gloucester County College. She holds her Bachelor of Science Degree from Regents College and attended Life University in Marietta, Georgia, where she earned her Doctor of Chiropractic Degree in 1998. Dr. Gimbel holds certificates in Physiotherapy, Rock Blade Technique, Graston Technique and Manipulation under Anesthesia. Techniques she uses in the office are Full Spine, Diversified, Activator, Extremity Adjusting, and Cox Flexion/Distraction. Dr. Gimbel's mission is to relieve your pain and restore your health so you may live a happy life.